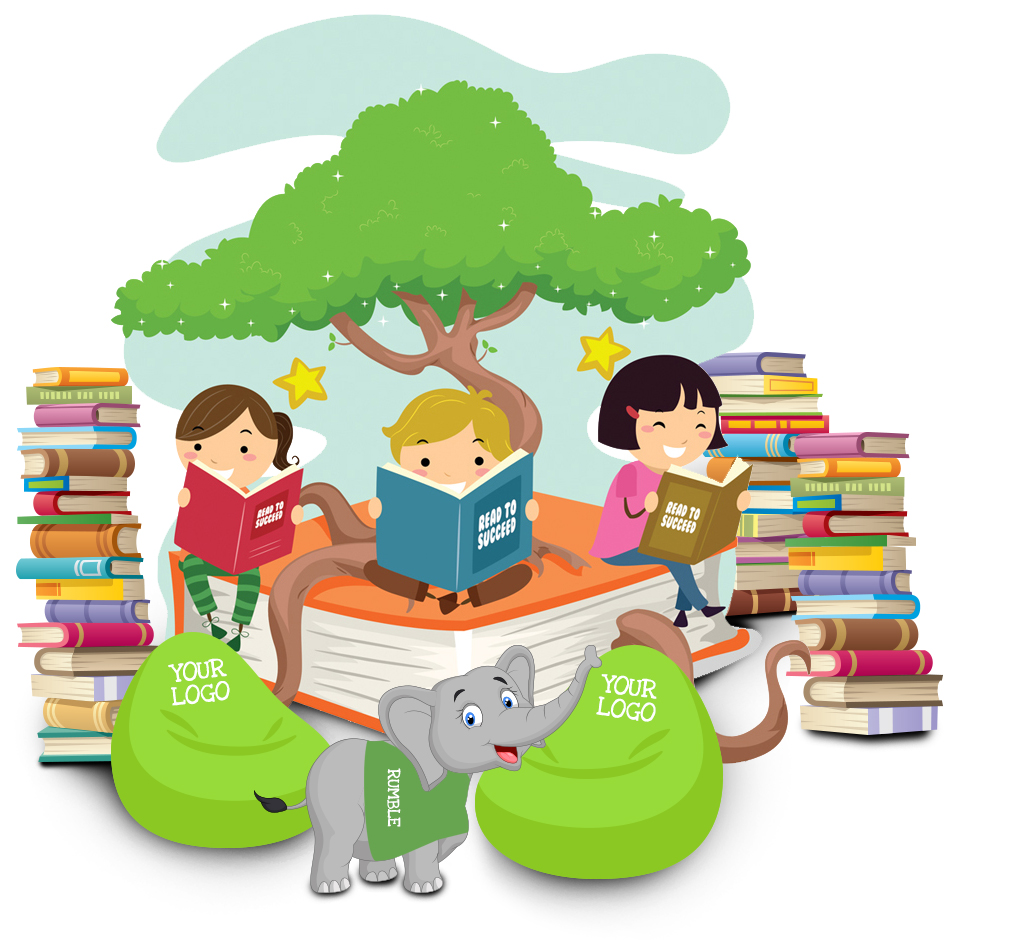 Why not sponsor a Rumble Read Reading Corner?
Rumble Read Reading Corners will be a secure and welcoming reading haven for children within their classrooms.
A dedicated mini – library of books for children to read simply for pleasure. Help develop a child's love of reading!
For a minimum donation of £500 you will be able to present a reading corner with a mini library of approximately 200 books to the children together with two bean bags displaying your company logo. Our mascot, Rumble Read, will help your business make the presentation.
You will also receive a thank you on our website with your company logo and of course a mention on our twitter account with comments and pictures.
Not only does this give you excellent PR opportunities but it also gives your business the satisfaction that you are helping the children in the Hull & East Riding area.
You can buy a Rumble Read Reading corner for one classroom, a number of classrooms or a whole school depending on your budget.
Which ever option you choose you will be safe in the knowledge that you are providing a much needed and valuable asset to children in our city.
Pay to Train a volunteer
All our volunteers are unpaid. They commit their time for free as they are passionate about helping children learn and read.
For a minimum donation of £150 cover the cost of a reading volunteer and one reading scheme and all associated DBS screening, other checks, safeguarding and other training and ongoing support.
Ready Steady Read relies entirely on our volunteers. Without them we could not do the work we do. By covering the cost of a volunteer you will be helping local children to benefit from extra support. Your volunteer will be working directly with the children, who need the most, helping to develop their literacy skills, confidence and love for reading.
You can sponsor as many volunteers as you want – from a single individual, right through to multiple reads across numerous schools.
Join our corporate volunteering programme
Instead of donating, you can also give the gift of time – by joining our corporate volunteering programme.
We're always looking for volunteers, and you can support us by allowing some of your team members to get directly involved with Ready, Steady, Read and volunteer in a local school for a couple of hours each week. It's a great way of giving back to your local community, whilst sharing valuable skills with young people who need a little extra support.
All we ask for is a commitment for at least 2 hours each week, for a minimum period of one school term. Additional information about volunteering can be found on our Volunteering page.
Donations, fundraising and events
We welcome any and all donations, sponsorships and fundraising events. Whether you want to hold a fundraising event, name us as your charity of the year or would like to donate some money directly – we really appreciate all the support we get.
For additional information about Ready, Steady, Read and the work we do, call 07949734175 / 07961881565, or email [email protected]