Spring Term 2019 Newsletter
Schools and volunteers update
It's been a busy time at Ready Steady Read, we are now working with nine schools, including recent additions Adelaide Primary School in Walker Street, Eastfield Primary School in Anlaby Road, St Richards VC Academy in Marfleet Lane and Stepney Primary School in Beverley Road. Within those schools, we have 23 volunteers who are working with children to develop their reading skills.
Our volunteers make an incredible difference to these children and in just over a year since Ready Steady Read started in our first school we have been able to provide reading support to over 500 children in primary schools in the areas of greatest deprivation in Hull. That number continues to rise but we can only expand the programme into more schools with the help of our volunteers and we are keen to recruit more people who want to make a lasting difference for local children.
Following the start of our Autumn reading scheme, the deputy head teacher at a school we work with, contacted us regarding two of our volunteers–
"I wanted to let you know about the touching moments when Fran and Rachel came into school on Wednesday. They have moved up with the year group from last term and the children were so excited and there were cheers when two children found out they were doing it again. As I escorted the two first readers (who did this last term) to the library they went straight up to them!
It was very heart warming and I think it speaks volumes for not only the work your volunteers do but also the relationships that they build with these children! We are sincerely grateful for the support you provide children at our school."
In addition, Collingwood Primary School has recently provided us with the following testimonial:
Collingwood Primary school have had the pleasure to work with the volunteers from Ready, Steady, Read since September. The volunteers come in weekly to support the children with their reading and since their start we have seen an incredible difference in our children. Each week the children look forward to their reading time with their helpers and have fast, developed relationships with their teacher that is just lovely to see. It is clear to see their friendly approach to reading has become motivating and rewarding for our children. Every volunteer has become a part of our school and the teachers, and children don't ever want them to leave!
In addition to our fantastic volunteers, our many business supporters are also key to our success. Without the kindness and generosity of a huge host of Hull based companies and now some companies from outside the region, we would not be able to support the many local children who benefit from our programmes. We also continue to be greatly thankful for the support we receive from a number of private trusts.
Christmas gifts from Ready Steady Read
Just before Christmas we were delighted to be able to embrace the season of giving by providing a range of books and reading facilities. Thanks to the generous sponsorship of Walker Modular, we were able to make a donation of more than 400 new books and around 100 kindly donated second hand books to St Richards VC Academy so that they could give every child a book as a Christmas present.
The school wrapped every book up and distributed them before Christmas and posted pictures of the children with their new books on Twitter (@StRichardsrc).
To help the children enjoy even more books, they are planning
to host a swap shop where the children can bring in their book once they've read it and swap with another child to get a different book.
We were also able to provide book corners to Ainthorpe Primary and Collingwood Primary. These book corners provide a secure and welcoming reading haven for children within their classroom – stocked with a mini library of books, they provide a place for children to read purely for pleasure.
We also gave all of our schools a bundle of Christmas books for their libraries.
Continuing in this spirit, we have also recently made a donation of more than 200 books to the Cystic Fibrosis Unit at Leeds General Infirmary. This donation was also made possible thanks to the support of Walker Modular and will see the books being given to children with long term and complex illnesses who are treated at the unit.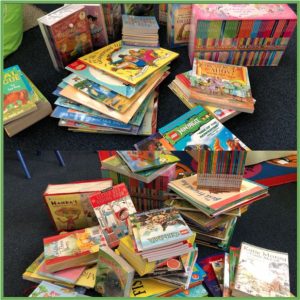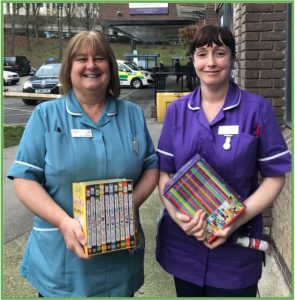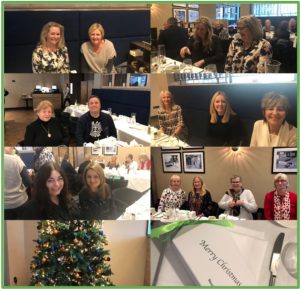 A celebration of our volunteers – with afternoon tea!
Shortly before Christmas we took our incredible team of volunteers for afternoon tea at Marco Pierre White's at the DoubleTree Hilton in Hull as a way to thank them all for the work that they do and the time that they give.
It was a wonderful afternoon and a great way to celebrate all that we've achieved by bringing the full team together.
One of our lucky volunteers also won a meal for two which was kindly donated by the restaurant.
Win a trip to see 'Dumbo' with our schools competition
At the end of March this year a live action remake of Disney's classic Dumbo will be released in cinemas. As our mascot is Rumble Read the elephant, we couldn't resist the temptation to use it as an opportunity to get the children we work with putting their drawing skills to good use.
We've just announced a competition open to children at all of the schools we currently work with to win a trip for their class and teachers to the cinema to see the film with our volunteers.
There will be two lucky winners and all the children need to do
to enter is design a poster to encourage children and parents
to read at home. The theme has a very important message for
us and we really hope this topic will help, promote and
encourage the children and their parents to read at home.
Entries need to be submitted by 15th March and the two cinema trips will take place in April.
"I do believe something very magical can happen when you read a good book" JK Rowling
All of our trustees would like to give a huge thank you to everyone who has supported us so far and with their continued support, we are sure that Ready Steady Read will go from strength to strength. We endeavour to keep helping as many children as possible with their literacy skills and developing their reading confidence and a love of reading.
Warmest Regards
Joanne Walker
Trust Chairman and Founder
Paula Stead
Trustee and Founder